Current Event: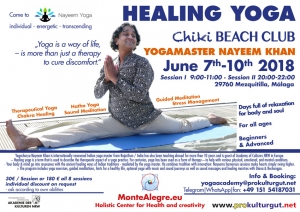 Healing Yoga at the Chiki Beach, Mezquitilla with the Yoga Master Nayeem Khan
Days full of relaxation for body and mind – all ages, beginners & advanced
The internationally renowned Indian yoga master Nayeem Khan has been teaching abroad for more than 10 years international and is now also a guest in Andalusia due to his European Tour 2018.
Healing yoga is a term that is used to describe the therapeutic aspect of a yoga practice. For centuries, yoga has been used as a form of therapy—to help with various physical, emotional, and mental conditions. Your body & mind go into resonance with the ancient healing ways of Indian traditions -mediated by the yoga master Nayeem Khan.
Nayeem Khan combines tradition with innovation: his humorous sessions make hearts simply swing higher.
"Yoga is a way of life, more than a therapy to cure discomfort."
Come to Nayeem-Yoga!
individual – energetic – transcending
Upon request, Nayeem Khan will give free individual consultations after each workshop. Please pre-register in time!
07. – 10. June
Every Day
Session I – 09:00-11:00
Session II -19:30 – 21:30
30€ / Session – The complete course costs 180€. Discount on request
CHIKI Beach Club
29760 Mezquitilla, Málaga
Email: yogaacademy@prokulturgut.net
Telegram / WhatsApp: +49 151 54187031
---
The Positive Creative World – Andalucia Fusion Tour 2016
Musical Events in the Axarquia – Andalusia.
The "The Positive Creative World Ensemble" was created by Rechungpa in 2007 in Germany. The ensemble stars internationally famous musicians such as bansuri master DINESH MISHRA, HANIF KHAN tabla grandmaster, AFSHIN GHAVAMI flamenco guitarist as well as RECHUNGPA with earthy gong sounds, overtones and percussion.
The ensemble will be performing from 17th to 29th of August 2016.
(Wed. 17 in ALCAUCÍN, Thu. 18 LA HERRADURA, Fri. 19 CALETA DE VÉLEZ, Sun. 21 VÉLEZ-MÁLAGA, Mon. 23 CALETA DE VÉLEZ ) Starting at 10 pm.
During the performance they'll be supported by the world famous musician from Andalusia, JAVIER Paxariño with Sax & Flute and Kilema, multiinstrumentalist from Madagascar.
More concert dates, info and reservation: www.worldmusicevolution.net – 0049 151 54187031 (whatsapp)